SYNTHESIS OF SUBSTITUTED TRIAZOLO-PYRROLE FUSED RING ADDUCT WITH BENZYLIDENE PIPERIDYL UREA/THIOUREA BRIDGE AND SCREENING FOR CNS DEPRESSION
Vikramkumar Vishnubhai Patel1* And Prof Dr Dhrubo Jyoti Sen2
1Department Of Pharmaceutical And Medicinal Chemistry, Shri Sarvajanik Pharmacy College, Hemchandracharya North Gujarat University, Arvind Baug, Mehsana-384001, Gujarat, India
2Department of Quality Assurance,S.K. Patel college of Pharmaceutical Education and Research, Ganpat University, Mehsana-Gozariahighway, Kherva-382711, ta. & dist: mehsana (n.g.)
Corresponding Author:

Vikramkumar Vishnubhai Patel
Department Of Pharmaceutical And Medicinal Chemistry
Shri Sarvajanik Pharmacy College Hemchandracharya
North Gujarat University, Arvind Baug Mehsana-384001
Gujarat, India
Tel: 00-91-2762-247711
Fax: 00-91-2762-247712
E-mail: [email protected]
Date of Submission: 25-01-10; Date of Acceptance: 26-03-10
Abstract
The molecular design of two molecules have been derived from the tailoring of the benzodiazepine moiety in which the amide group is in cyclic form as well as bioisosteric (CH2≈NH) and we have incorporated the same amide linkage in open chain by keeping the triazolo-pyrrole ring having Mannich base of urea/thiourea linkage with piperidine nucleus for CNS depression activity. Phenyl substituted 5-pyrazolone has been synthesized by the reaction between phenyl hydrazine and ethyl acetoacetate and substituted trizolo-pyrrole fused ring has been synthesized by condensation of benzoylated phenyl substituted 5-pyrazolone with urea. This on reaction between Mannich base which has been synthesized by the reaction between benzaldehyde with piperidine and urea/thiourea produced amide bridge having variable atom X=O: Urea and X=S: Thiourea. The two components were characterized for their structural confirmation by IR spectra and elemental microanalysis
Keywords
Fused ring heterocyclic (Triazolo-pyrrole), Urea/Thio urea bridge, CNS depression, Benzodiazepines, Molecular design, Bioisosteric
Objective
The molecular design of two molecules have been derived from the tailoring of the benzodiazepine and barbiturate moiety in which the amide group is in cyclic form and we have incorporated the same amide linkage in open chain by keeping the triazolo-pyrrole ring of having Mannich base of urea/thiourea linkage with piperidine nucleus for CNS depression activity [1].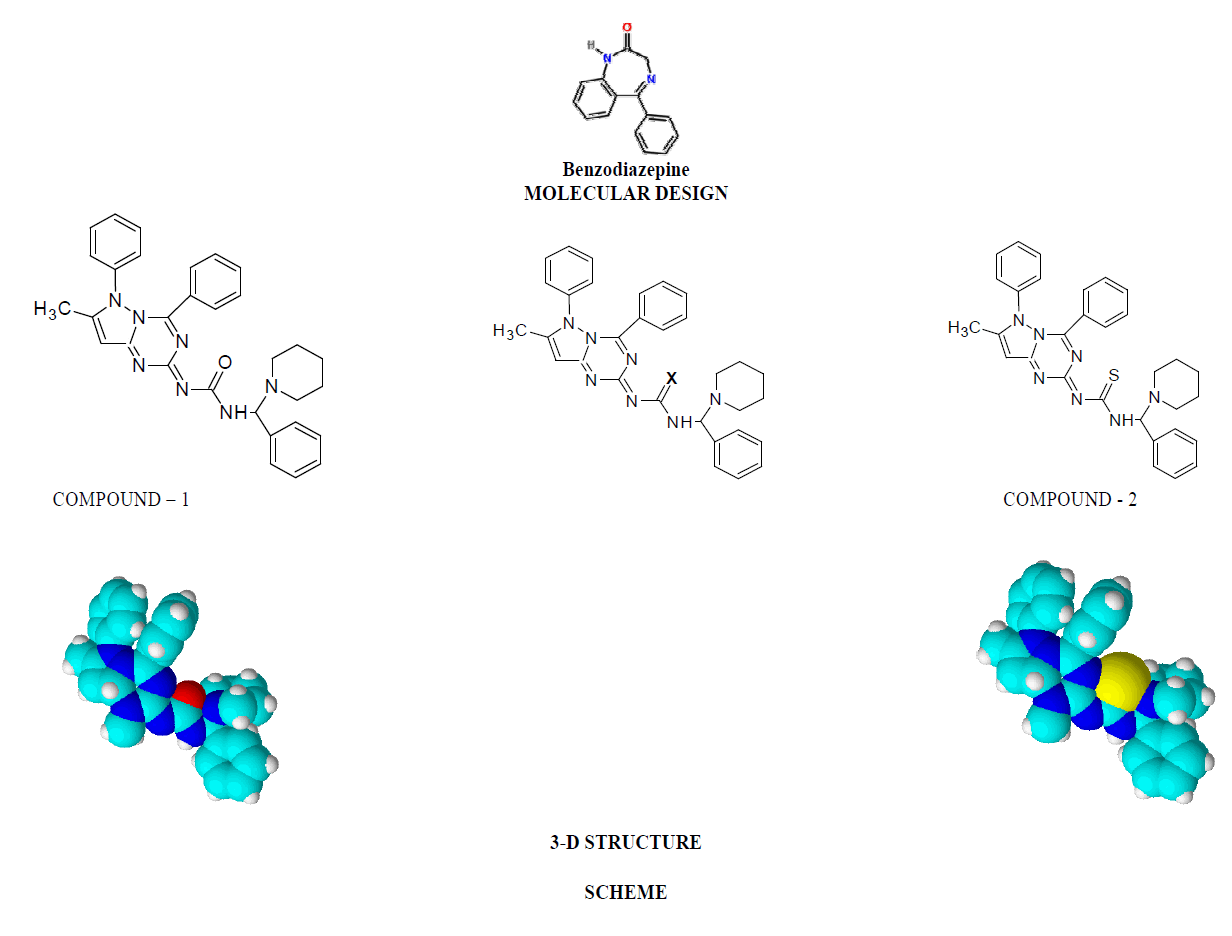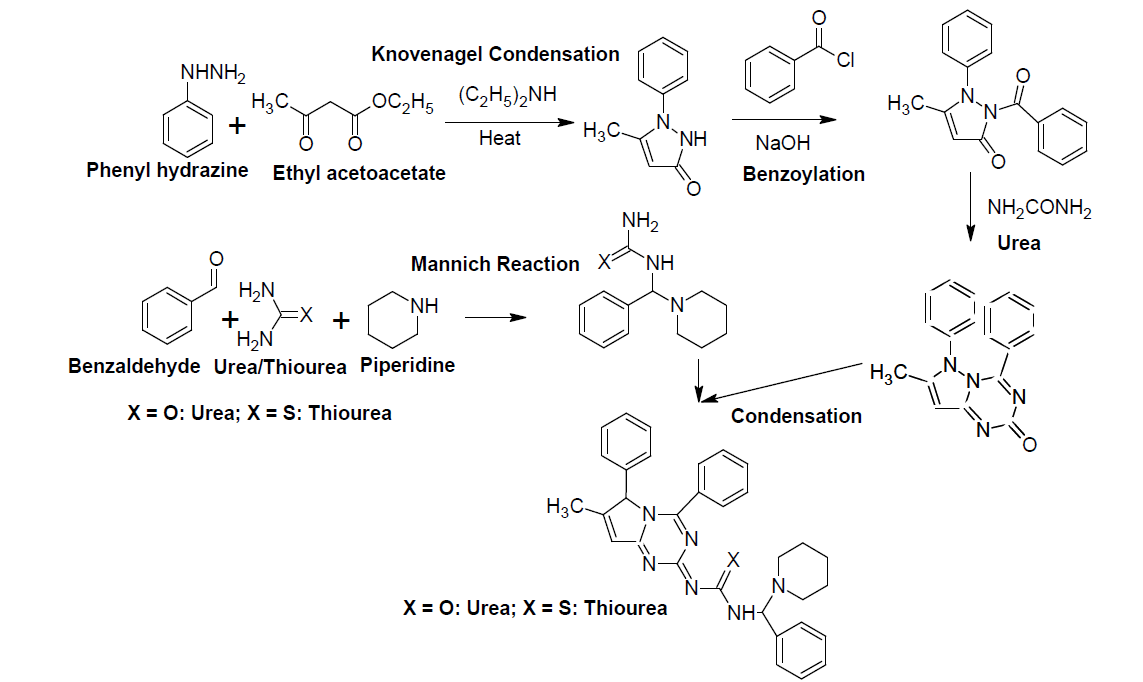 Phenyl substituted 5-pyrazolone has been synthesized by the reaction between phenyl hydrazine and ethyl acetoacetate and substituted trizolo-pyrrole fused ring has been synthesized by condensation of benzoylated phenyl substituted 5- pyrazolone with urea. This on reaction between Mannich base which has been synthesized by the reaction between benzaldehyde with piperidine and urea/thiourea produced amide bridge having variable atom X=O: Urea and X=S: Thiourea. The two components were characterized for their structural confirmation by IR spectra and elemental microanalysis [2,3].
Etiology Of Cns Depression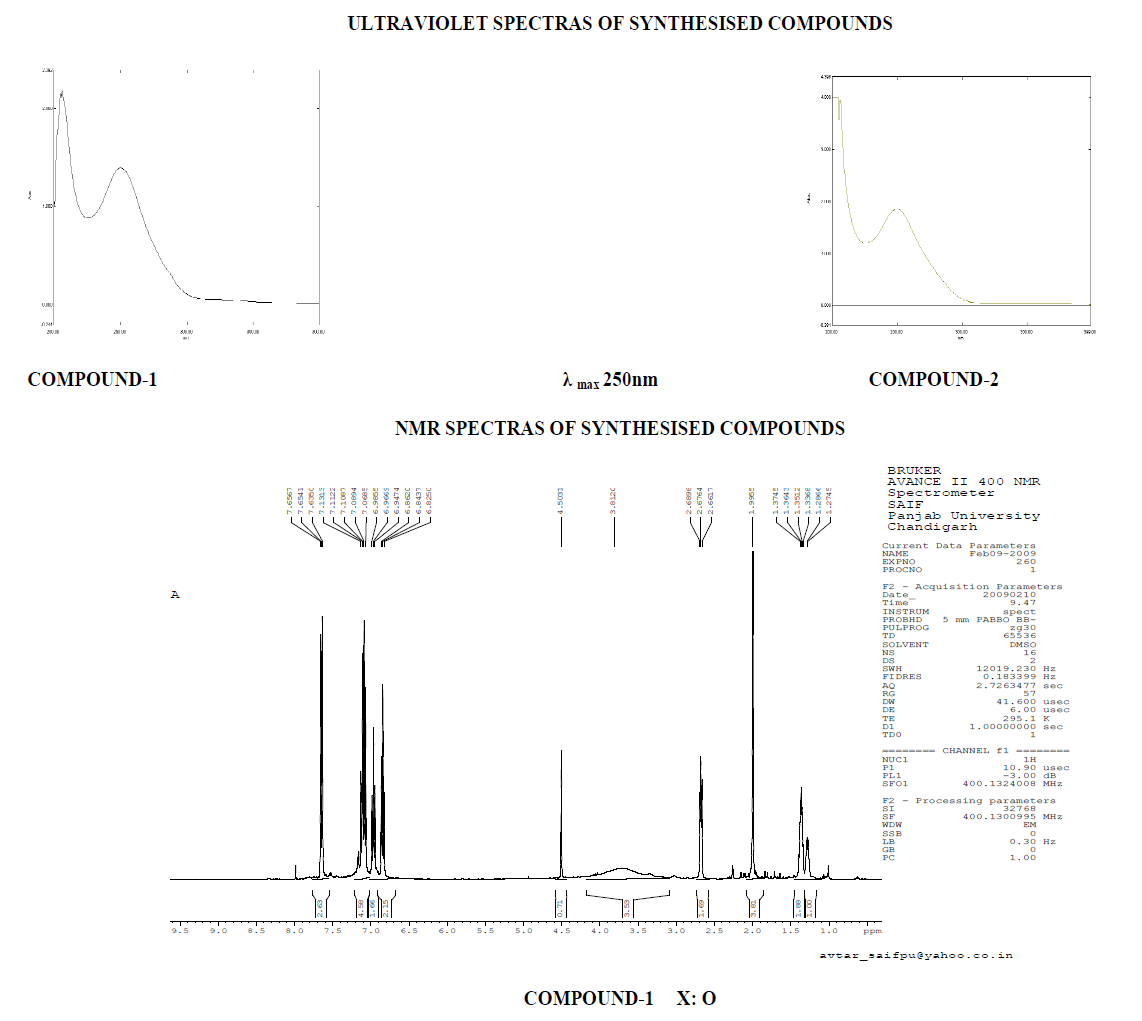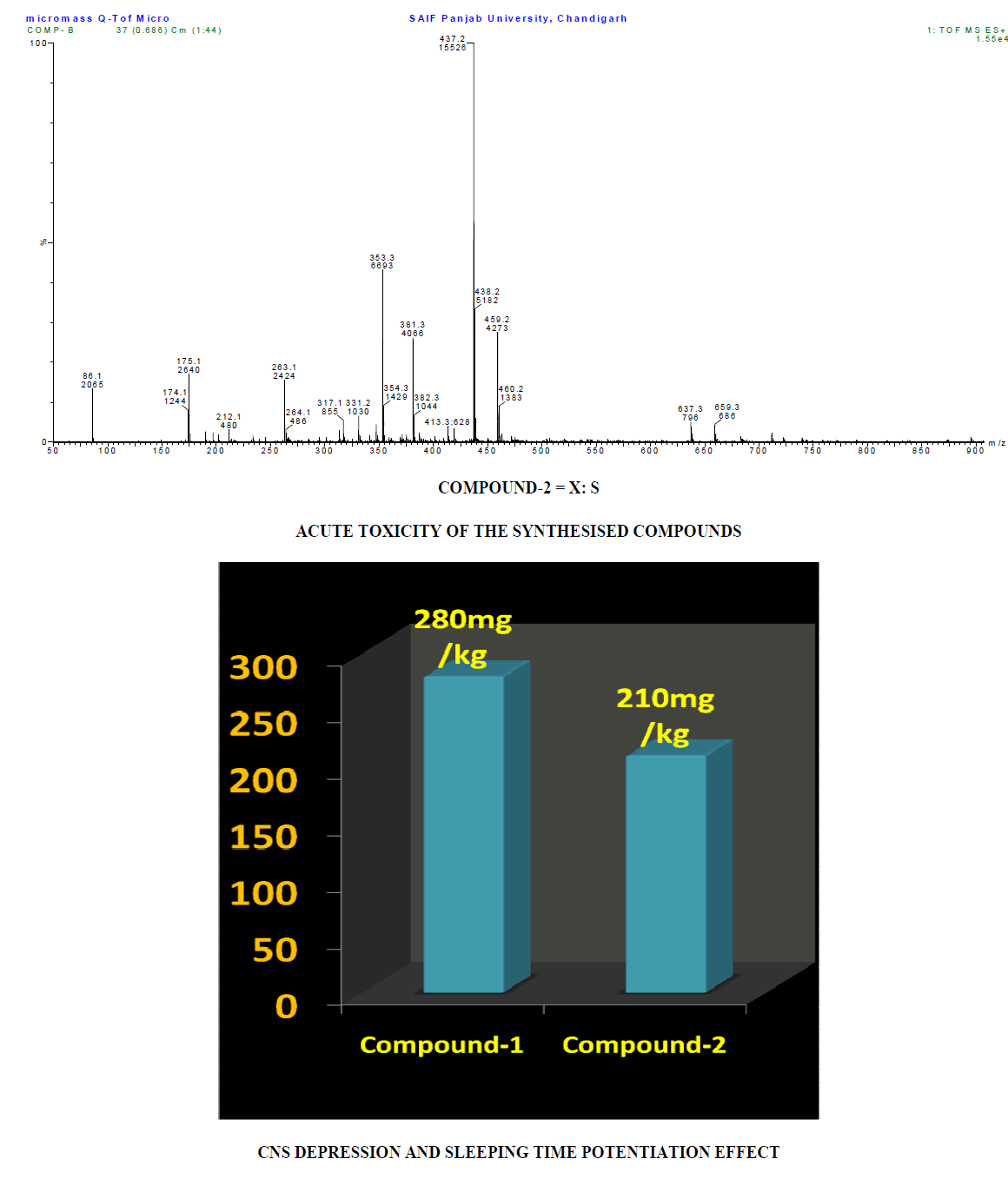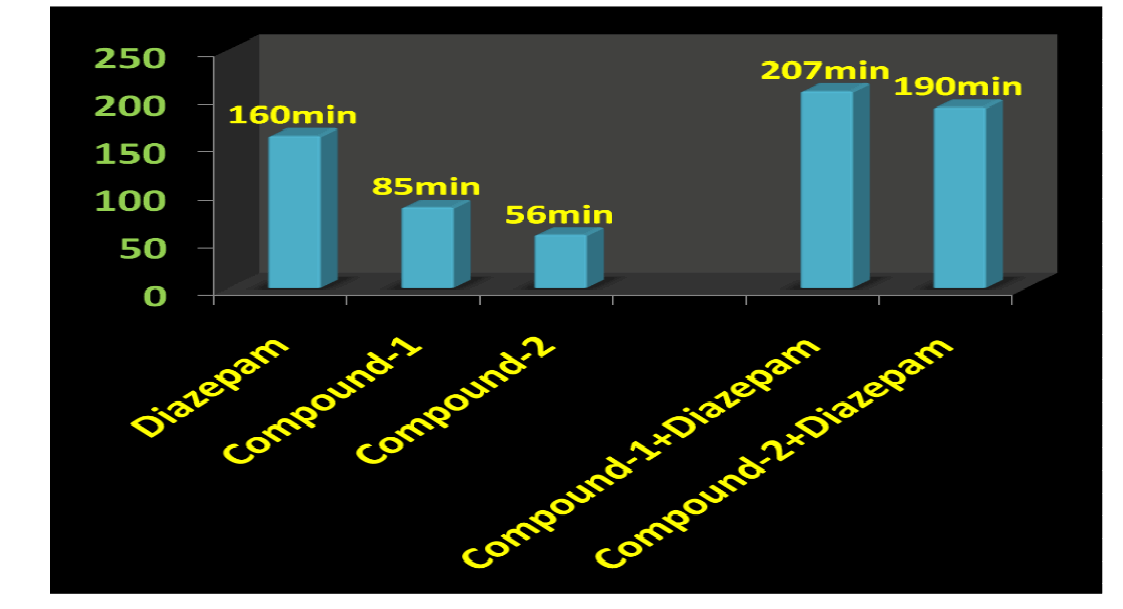 Result and Discussion
The CNS depression study for the synthesized compounds were screened on mice through intraperitoneally in three different sets and compared with the sleeping time with diazepam (Benzodiazepine): (1) Only standard drug (5mg/kg) (2) Only test compounds (0.5mg/kg) and (3) Test compounds (0.5mg/kg) + standard drug (5mg/kg) by dissolving in propylene glycol to screen the duration of sleeping time and potentiation effect by synergistic activity in mice. The CNS depression activity on mice has been noted for diazepam. This CNS depression activity has been found in the two test compounds by observation of the sleeping time by the duration of loss of righting reflex and regaining of it. The sleeping time potentiation effect was observed by the duration of sleeping time produced by diazepam + test compounds. It has been found that the sleeping time and synergistic activity for Compound-1 (urea derivative) > Compound-2 (thiourea derivative) and this is due to the electronegativity of Urea X:O=3.44 and Thiourea X:S= 2.07. Both of compounds have same structural similarity except variable X=O/S and -C=N-C=(X)-NH-CH- linkage which acts on GABA receptor and produces CNS depression with the blockage of chloride channel. This receptor has free amino and carboxylic acid functional group which produce amide linkage in-vivo and that effects on the activity of the synthesized compounds as well as diazepam (benzodiazepine) and produces CNS depression [4].
Acknowledgement
The author Vikramkumar Vishnubhai Patel (B.Pharm.) is thankful to the co-researcher Vidhiben Rajnikant Patel (B.Pharm.) and thankful to the project guide Prof. (Dr.) Dhrubo Jyoti Sen, Department of Pharmaceutical and Medicinal Chemistry and the staff members of Shri Sarvajanik Pharmacy College, Mehsana, Gujarat, India to fulfill the project work successfully. The author Vikramkumar Vishnubhai Patel has presented this project in the International Conference on 10th Annual Florida Heterocyclic and Synthetic Conference at University of Florida, Gainesville, United States of America, 8-11 March 2009.
Conflict of Interest: NIL
Source of support: NONE
References