Key words
Generic drugs, FDA regulations of generics, Pharmaceutical Industry
Introduction
A generic drug (generics) is a drug which is produced and distributed without patent protection. The generic drug may still have a patent on the formulation but not on the active ingredient. A generic must contain the same active ingredients as the original formulation. According to the US Food and Drug Administration (FDA), generic drugs are identical or within an acceptable bioequivalent range to the brand name counterpart with respect to pharmacokinetic and pharmacodynamic propertie s. By extension, therefore, generics are considered (by the FDA) identical in dose, strength, route of administration, safety, efficacy and intended use. In most cases, generic products are available once the patent protections afforded to the original developer have expired. When generic products become available, the market competition often leads to substantially lower prices for both the original brand name product and the generic forms. The time it takes a generic drug to appear on the market varies. In the US, drug patents give twenty years of protection, but they are applied for before clinical trials begin, so the effective life of a drug patent tends to be between seven and twelve years.1
MYTHS ABOUT GENRIC DRUGS
? Misbranded drugs: Generally people think that generic drugs are misbranded because of change in the color, taste, appearance than original (ethical drug). But alterations of the color, taste, appearance is the part of the generic formulations and they are not misbranded.
? Duplicate drugs: Due to their change is the brand name or shape of the of dosage shape packing, some may think the drugs are duplicate.
? Rejected drugs and fake drugs: Due to cheap price of the generic drugs, it is generally thought that generic drugs are rejected form the company that is why they are selling for the low price.
? Drugs manufactured at third party manufacturing unit: This myth is in the mind of the wholesaler or the retailer that the drugs which are manufactured at some other plant which is not company's own plant. Generally this true because generic drugs are generally manufactured at small scale industry but it is not applicable in all the cases.
? Ineffective drugs: People also have a mindset that "costlier will be effective". They think that there is surely something wrong with the medicine because it is too cheap.2-4
WHY GENERIC DRUGS ARE INTRODUCED
The principal reason for the relatively low price of generic medicines is
? Competition increases among producers when drugs no longer are protected by patents. Companies incur fewer costs in creating the generic drug, and are therefore able to maintain profitability at a lower cost to consumers. The costs of these generic drugs are so low that many developing countries can easily afford them.
? Generic manufacturers do not incur the cost of drug discovery and instead are able to reverseengineer known drug compounds to allow them to manufacture bioequivalent versions.
? Generic manufacturers also do not bear the burden of proving the safety and efficacy of the drugs through clinical trials, since these trials have already been conducted by the brand name company.
? A brand name company enjoys a period of "market exclusivity" or monopoly, in which the company is able to set the price of the drug at a level which maximizes profitability. This price often greatly exceeds the production costs of the drug, which can enable the drug company to make a significant profit on their investment in research and development, thus enabling them to fund the research and development of new medicines which most generic companies doesn't undergo all these things.
? Introduction of competition, which prevents any single company from dictating the overall market price of the drug. Competition is also seen between generic and name-brand drugs with similar therapeutic uses when physicians or health plans adopt policies of preferentially prescribing generic drugs as in step therapy.
? Multiple firms producing the generic version of a drug the profit-maximizing price generally falls to the ongoing cost of producing the drug, which is usually much lower than the monopoly price.5
PROCESS OF INTRODUCTION OF GENERIC DRUGS
Most nations require generic drug manufacturers to prove that their formulation exhibits bioequivalence to the innovator product. The FDA must approve generic drugs just as innovator drugs must be approved. The FDA requires the bioequivalence of the generic product to be between 80% and 125% of that of the innovator product.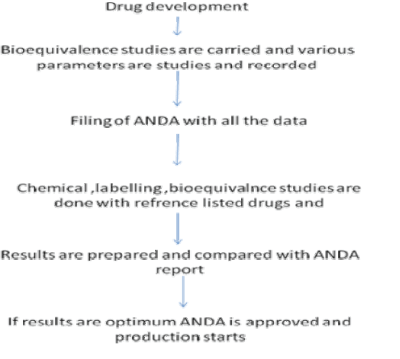 Milestones in generic drug development
This value range is part of a statistical calculation and does not mean that FDA lets generic drugs differ from the brand name counterpart by up to 25 percent. These studies compare the absorption of brand name and generic drugs into a person's body. These studies are submitted to FDA to support approval of generics. The average difference in absorption into the body between the generic and the brand name are 3.5 percent and comparable to differences between two different batches of a brand drug.
FDA REGULATIONS FOR GENERIC DRUGS
An Abbreviated New Drug Application (ANDA) contains data which when submitted to FDA's Center for Drug Evaluation and Research (CDER), Office of Generic Drugs, provides for the review and ultimate approval of a generic drug product. Once approved, an applicant may manufacture and market the generic drug product to provide a safe, effective, low cost alternative. A generic drug product is one that is comparable to an innovator drug product in dosage form, strength, route of administration, quality, performance characteristics and intended use. All approved products, both innovator and generic, are listed in FDA's Approved Drug Products with Therapeutic Equivalence Evaluations (Orange Book.) Generic drug applications are termed "abbreviated" because they are generally not required to include preclinical (animal) and clinical (human) data to establish safety and effectiveness. Instead, generic applicants must scientifically demonstrate that their product is bioequivalent (i.e., performs in the same manner as the innovator drug). One way scientists demonstrate bioequivalence is to measure the time it takes the generic drug to reach the bloodstream in 24 to 36 healthy, volunteers. This gives them the rate of absorption, or bioavailability, of the generic drug, which they can then compare to that of the innovator drug. The generic version must deliver the same amount of active ingredients into a patient's bloodstream in the same amount of time as the innovator drug. Guidance documents to help to prepare ANDAs are listed together on CDER's Guidance Document Index web page in the following categories:
Generics:
? Generics (Draft - Distributed for comment purposes only).
? Procedural Draft: This provision permits FDA to rely, for approval of an NDA, on data not developed by the applicant.
Biopharmaceutics:
? Bioavailability and Bioequivalence Studies for Orally Administered Drug Products - General Considerations. This guidance should be useful for applicants planning to conduct bioavailability (BA) and bioequivalence (BE) studies during the IND period for an NDA, BE studies intended for submission in an ANDA and BE studies conducted in the post-approval period for certain changes in both NDAs and ANDAs.
Drug master files:
? A Drug Master File (DMF) is a submission to the FDA that may be used to provide confidential detailed information about facilities, processes, or articles used in the manufacturing, processing, packaging and storing of one or more human drugs.
? Required Specifications for FDA's IND, NDA and ANDA Drug Master File Binders
Guidance for industry:
? Changes to an Approved NDA or ANDA
Refusal to receive:
? Clarifies CDER's decisions to refuse to receive an incomplete application.
Inactive ingredient database:
? This database contains all inactive ingredients present in approved drug products or conditionally approved drug products currently marketed for human use.6-7
PHARMACEUTICAL INDUSTRY AND GENERIC PRODUCTS
The health care products at present have been prominently provided by many pharmaceutical industries in India. Now the pharmaceutical industry is focusing on research of new chemical entities and products and development of generic products, because of the increased export market demands and competition for survival in indian and foreign market. Mostly the research has been going on cardiovascular agents, central nervous system, antidiabetic agents, anti-cancer agents, anti-HIV agents etc. The indian companies have better option to focus more on generic drugs to raise their standards equivalent to the generic drug markets of the developed countries. Because of best chemistry skills and low cost advantages, India is the best option for many MNCs to set up manufacturing and to spend more money in the field of research. As more and more patents expire, sales of the generic portion of the Indian pharmaceutical market are expected to increase day by day. But prior to sale of generic products, it should be approved by FDA, which includes following requirements:
? The data of generic versions of a drug which shows the drug is bioequivalent to the one used in the original safety and efficacy testing must be sent for FDA review.
? The formula of active and inactive ingredients used by manufacturer must be submitted for FDA review before the drug has to be marketed.
? Without FDA approval manufacturer could not do any major changes in formulation.
? The evaluation tests of generic drug product performed by the manufacturer should be sent to FDA approval.
? The drug labelling carried out by the manufacturer must be submitted for FDA reviews.
? The drug which is already approved has been monitored by FDA for its quality.
? The adverse reactions and serious health effects observed by the manufacturer must be reported to FDA.
? The manufacturing plants must be inspected by FDA periodically.
? The manufacturer's adherence to good manufacturing practices must be evaluated by FDA before the drug is marketed.8-10
GENERIC SUPERSTARS VERSUS BLOCKBUSTER DRUGS
When a big pharma blockbuster drug's patent expires, a generic drug maker step in and displaces the branded drugs. Today, generic drugs represent more than 54% of all prescriptions dispensed in the United States. Today there are more than 7,800 generic versions of the approximately 10,668 FDAapproved pharmaceuticals. Brand-name drug manufacturers have gone to extraordinary lengths to mislead doctors, pharmacists and the public into believing that their products are produced to higher standards and thus are safer and more effective than the same drugs produced by generic companies. The quality of prescription drugs, brand-name or generic, does not depend solely on the manufacturer but also on a strong and vigilant FDA. Both brand-name and generic drug companies are regulated by the FDA using the same standards for manufacturing facilities, quality and purity and content of prescription drugs. But generic drugs are cheaper than the innovator product.
PRECAUTIONS WHILE USING GENERIC PRODUCTS:
? Consultation of complication with the doctor
? Avoid the use of expiry date products
? Keep them away from the reach of children
? Strictly follow the doctor's prescription
? Read all the instruction given on the product carefully
? Store them according to the instruction given on the product
? Purchase them from the authorized medical shop. 11-14
ADVANTAGES OF GENERIC DRUGS
When a drug patent expires, other pharmaceutical companies can begin producing generic versions of the drugs. These products provide many economic advantages to consumers in both developed and developing countries, insurance companies, other pharmaceutical businesses and public health. The biggest benefit that generic drugs provide is economic benefits. Most of the cost of any new drug lies in the research and development of the product. A generic drug allows a company to reverse-engineer an existing product and manufactures it under a nontrademarked name. Figure 1 shows the comparison of prices (10 tablets) of branded drugs versus generic drugs.
? In addition to saving consumers money, generic brand drugs also make needed medicines widely available to populations that could not previously afford them.
? Generic drugs are just as safe as the trademarked "name brand" drugs for which they substitute. The FDA requires any generic drug to undergo clinical trials, both to prove safety and efficacy. Also, generic drugs must provide patients with "bio equivalent" results to the name-brand product they replace, meaning that the generic drug must achieve the same results as the drug it copies (within a certain range of statistical tolerance).15-18
DRAWBACKS OF GENERIC DRUGS
Drawbacks of generic drugs are much smaller than its advantages.
? Generally generic drugs may parasite the economy of the company whose patent got expired or whose molecule or formulation was unique.
? During bioequivalence studies, some error may arise which may lead to some complications. More over bioequivalence studies are less accurate than bioavailability studies.
? There may be some variations during reformulations
? Some patients may be allergic to new colours, flavours etc.
? Generic drugs are not possible in all the cases. Because it takes long time to expire any patent.19
CONCLUSION: WHY WE SHOULD USE GENERIC DRUGS???
Health care costs continue to rise. Therefore, consumers, providers and policymakers need to assess the best way to keep health care affordable. Without adversely affecting access to quality care, with prescription drug (branded drug) costs serving as a major contributor to cost escalations, generic drugs offer an important tool for reducing the rate of growth in overall health expenditure. As more and more patents expire, the generic portion of the pharmaceutical market is expected to continue for increased sales. While brand name drugs certainly play an important role in medicine, generic drugs are a cost effective alternative. Pharmaceutical costs are increasing faster than any other portion of the health care expense. Not only are generic drugs cost effective, but they are safe. Generic drugs are bioequivalent to their brand name twins. As generics tend to be older, they are generally less risky than new drug therapies. Generic drugs offer sound treatment options for patients. So patients should be told about the generic drugs and myths should be solved that "costlier will be effective." If all these things go hand in hand generic drugs may make the medical costs cheap and a relief for the people living in economic struck nations.
Conflict of Interest
NIL
Source of Support
NONE
Figures at a glance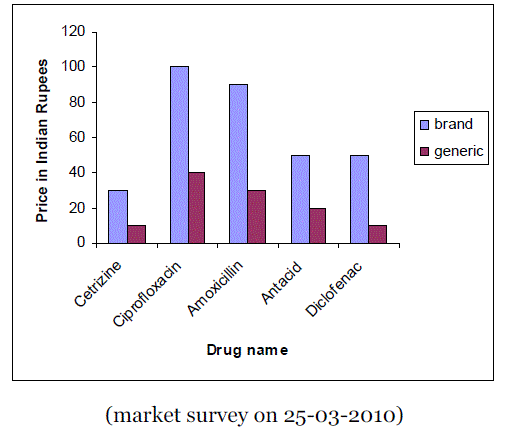 Figure 1
References